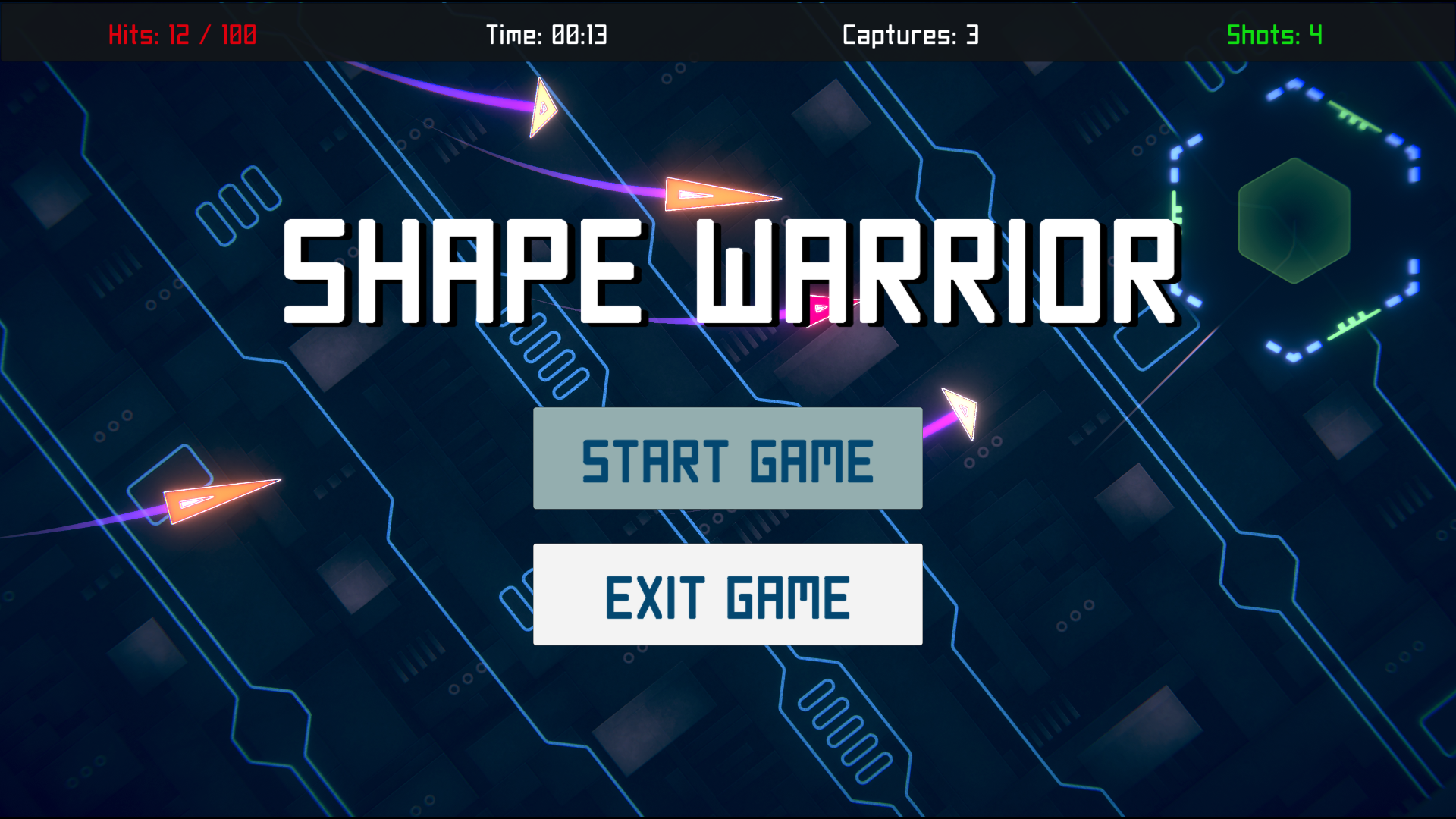 Shape Warrior
IMPORTANT
This is considered as an 0.9 alpha version. Meaning that things are about to change and there may be some undiscovered or OS / machine specific issues. Any feedback is welcome. I will keep it updated here with some more visible changes within next few weeks.
Linux build is planned, but I am experiencing some problems with producing one.
Mac build may need an extra step to run due to recent security changes in MacOS => see below.
Web version works according to my tests. You may experience some issues though comparing to native OS versions. Please use them if possible and you want to actually play the game a bit.

About the game
You control the shape and fight with enemies. You must be fast to react on time, disable or destroy them to survive as long as possible. Try to capture enemy triangles by intercepting them by shape's core. Each hit on shape's rim take you closer to loosing the game.

Controls
Move - Arrow keys
Rotate left - Z
Rotate right - C
Shoot (ammo needed) - Space
Pause / unpause - Esc
Pick menu item - Left mouse button
Future: I am aware not everybody like Z & C for rotation. There will be an option to choose other keys in the future.
Know issues
The UI aspect of the game is currently limited to just a few buttons and pausing. No settings, difficulty levels etc. I plan to improve that aspect over time.

I had one report of game fully not loading in Firefox, Ubuntu. It was working in Chrome on the same machine.
It is a bit too hard to capture enemies in some cases as 1o r 2 pixels on border can decide and it is hard to be that precise. It is planned to be improved in next release.
Not everybody like mouse cursor hiding and locking in-browser. Not yet decided about it, but I am aware of this case.
Plans for future and improvements
Many things are already planned some of which are covered in my youtube devlog videos and on my Discord (https://discord.gg/rZJJ3KFJZW).
Any feedback is welcome. I will take it for consideration though cannot promise any specific changes or features at the moment.
iOS & Android versions
I made some experiments with iOS on iPhone and iPad. In general it worked on my devices (graphics, music, interactions), but I have to make touch based controls to it as well as handle builds, Apple app store and Google play store. I cannot confirm anything at the moment. The more feedback and people testing desktop versions the higher possibility for mobile versions in the future.
| | |
| --- | --- |
| Status | Prototype |
| Platforms | Windows, macOS, HTML5 |
| Rating | |
| Author | hybridlizardgames |
| Genre | Shooter, Action, Survival |
| Made with | Unity |
| Tags | 2D, Arcade, Fast-Paced, Singleplayer, Space, Top-Down, Top down shooter, Unity |
| Average session | A few minutes |
| Languages | English |
| Inputs | Keyboard |
| Accessibility | Textless |
| Links | Community, YouTube, Twitter |
Install instructions
A preferable way to download is via Itch's app downloader.

For MacOS users
On Mac app may need to adjust one thing to run the game due to recent changes in Mac OS for apps outside of App store.
First try to open the app after unzipping it first. You will see a warning modal window with message that it cannot be opened.
Click top-left Apple icon => System Preferences => Security & Privacy => General => Allow Apps downloaded from => Open Anyway after unsuccessful attempt to open the game before.
Comments
Log in with itch.io to leave a comment.
Love this game, really polished.
It was quite confusing in the beginning but eventually got the hang of it.

Thanks for checking it out and leaving the comment!

As you may have already seen in description, on youtube or discord there are already many things on my TODO, making a better onboarding / tutorial included. Unfortunately it will need to wait a bit, even though I already have a few things in progress.
really nice (top demais, in my language)
Thanks for checking it out!
I am glad you like it. It will be better, so I encourage to come back and check after some time or just follow the project here on Itch.

I do not know Portuguese at all, but I have checked the meaning ;-)
Awesome game man! The visuals, gameplay, music and sound effects are spot on. Keep up the great work.

I also left some feedback via Discord
I appreciate a lot checking out the game and nice words about it Dash! I will put some effort to improve it more to be more appropriate for epic gamers like you!

I look forward for your games updates as well as the new ones you have in progress. Keep staying awesome!